Ariana Zambrano
Accounting Manager / Real Estate Specialist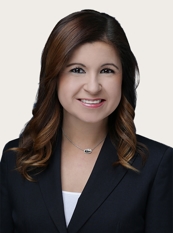 Ariana Zambrano serves as the Office Manager and also handles business matters for the Zambrano Law Firm. With an extensive background in banking, where she spent 13 years primarily handling real estate lending and commercial loans from $50,000 to $10,000,000, Ms. Zambrano has an in-depth understanding of a wide variety of real estate matters. She uses her experience in her approach to legal real estate documents, title policies, and all other areas handled through the loan process.
Ms. Zambrano is committed to truly listening to each and every client's needs. She works to provide compassionate guidance and the assurance you need that your real estate matter will be handled. She enjoys providing the support clients need to begin and navigate the legal process.
After graduating Roma High School in 1999 in the top six of her class, Ms. Zambrano went on to attend the University of Texas Pan-American. She graduated with a BBA in Finance and began her career in banking. She enrolled in banking school 10 years later at the Graduate School of Banking at LSU where she completed her banking degree in 2014.
Ms. Zambrano is an active member of the local community. She is heavily involved in community events. She is also a member of Shoot for the Stars, a non-profit foundation that provides school supplies to students in the community, as well as food for local families during the Thanksgiving season, and funds to people in need. She is also a past volunteer with United Way, Make a Wish Foundation, Immigrant Relief and Welcome Center at Sacred Heart Catholic Church, CCD Volunteer for Holy Family Church in Los Saenz, Texas. Ariana funded, along with her husband, both the Cynthia Brown Endowed Scholarship at UT Pan American and the Roy Guzman Scholarship for the PSJA Education Foundation.
In addition to being a full-time employee of the Zambrano Law Firm, Ms. Zambrano is a full-time mom to her son and loves doing both. In her free time, she enjoys spending time with her family and is very involved in her son's school by being part of the Reading Committee and helping at other events.
Education
The Graduate School of Banking at Louisiana State University: Banking Degree; 2014
The University of Texas-Pan American: Bachelor of Business Administration in Finance, cum laude; 2002
South Texas Community College: Associate of Arts in Business Administration; 2001
Roma High School; 1999