Abiel Flores
Associate Attorney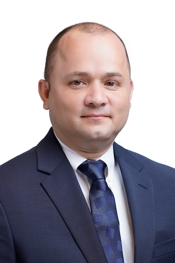 Abiel Flores is a graduate from the University of Texas School of Law where he obtained his Doctor of Jurisprudence (J.D.) in 2005. He began his legal career as an associate attorney handling personal injury cases and other civil matters. In 2006, Mr. Flores became an Assistant District Attorney for the Hidalgo County Criminal District Attorney's Office. While employed at the District Attorney's Office, Mr. Flores successfully prosecuted several criminal trials. Mr. Flores has used this trial experience to better serve his clients in all matters.
Mr. Flores has focused his career in the private sector representing clients in matters ranging from Criminal Defense to Personal Injury cases. During this time, Mr. Flores worked diligently to provide the best outcomes for all his clients; fighting diligently for justice and refusing to compromise at the client's expense, Mr. Flores obtained favorable results in several jury trials.
In 2015, Mr. Flores was appointed by the City Council of the City of Mission, as the first in-house City Attorney for the City of Mission. While serving as the City Attorney, Mr. Flores was the legal advisor of and counsel for the City of Mission and all officers and departments thereof in all litigation and other matters. Mr. Flores was tasked with interpreting laws, rulings and regulations to ensure that city operations were properly conducted.
In 2019, Mr. Flores returned to the private sector to continue his zealous representation for all clients.
Abiel Flores is married to Dr. Sylvia R. Flores and has three daughters, Karymeh, Alyssah, and Myah. Mr. Flores cherishes his family time, and recognizes the importance of family in all situations.
Education :
Mission High School (1998)
University of Texas (B.B.A., Finance – 2001)
University of Texas School of Law (J.D. – 2005)